Can You Sell Your Skills?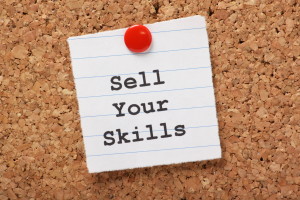 An individual's skillset is like no one else's. So why do job hunters insist on using the same antiquated, overused wording to describe their skills? Job hunters are told to use keywords and phrases found in job descriptions on resumes and during interviews. Keywords are important; however, over use makes the job hunter look and sound like everyone else applying for the same job.
One suggestion for distinguishing yourself on paper and in person is to describe and demonstrate the positive outcomes derived by using your skills and abilities. The practice of sharing accomplishments, providing examples and quantifying statements clarifies the value your skills provide to the organization.
In the book, What Color is Your Parachute, Richard N. Bolles provides simple flowcharts to delineate and define one's skills. When talking about skills one should remember that skills are activities or abilities that one performs with varying degrees of competence. A skill could be an ability that comes naturally and is often referred to as a "gift" or "talent." A skill is also an ability that is learned or attained through experience. Skills are also transferrable, an idea that Bolles expounds in his book. Transferrable means that the same skill can be applied to different situations and used in various work environments.
Bolles distinguishes skills that are performed with information/data, people or things. Skills with things are actions that require physical movement or coordination. Information skills require cognitive processing, such as imagining, creating, or thinking. People skills include communicating, showing, or interpreting.
One may state "I have exceptional interpersonal skills." What exactly does that mean? Using Mr. Bolles' method in What Color is Your Parachute, one would determine level of competence and comfort in one on one situations or in small or large groups. He then instructs the reader to rate their perceived level of competence in carrying out specific interpersonal tasks. This exercise enables anyone to clearly communicate the statement "I have exceptional interpersonal skills."
Naming skills is just the beginning. I always recommend having awareness and understanding of how the skills are used. Are these skills natural and easily incorporated into your everyday activities? Do you perform these skills without thinking? In what situations are you compelled to use them? How do you feel when you use these skills? Answering these questions will enable you to make a compelling statement about your abilities.
Let's talk about how others become aware of your skills. How well do you communicate the skills that you bring to the work experience? Most skills are communicated through your actions. Demonstration allows others to determine the value of specific skills based on the outcomes you accomplish. Some skills are communicated verbally. Keep in mind that explanations without demonstrations allow other people to set the value of your skills based on their own experiences and exposure. Some of your skills will be communicated by others who will provide examples of their observations.
A skills inventory helps to identify the skills and abilities you use, like and share. Do you want to discover more skills? Try this exercise:
Choose an hour during your workday to document the skills that you use. Spend a few moments thinking about the activities that are accomplished during the hour. Also consider the interpersonal encounters that you experienced.
What skills did you use as you performed the work related tasks?
Were these natural, learned or acquired skills?
What emotion did you feel as you performed these tasks?
Did you reach the desired outcome as a result of using these skills?
In addition to the above questions, answer these questions as they relate to the interpersonal encounters.
What skills did you use during your interactions?
How did the other party respond as a result of the skills you used?
You now have information that can be communicated to a potential employer regarding your skills in a particular situation. See the following example:
Sally is a social worker, who works in a residential treatment facility. One day she decided to take one hour to assess the skills she used while conducting a group for adolescent girls. Here are Sally's answers to the first set of questions.
What skills did you use as you performed the work related tasks? I negotiated a truce between two girls who both wanted to talk at the same time. Specifically, I helped them to calm themselves so that we could speak and listen clearly. I modeled active listening by listening to both and repeating what I heard for clarification. I asked them to state what they wanted to happen. Based on this information, I then proposed a plan which was initially rejected. I listened some more, using active listening and proposed an alternative that they both accepted.
Were these natural, learned or acquired skills? I grew up in a family of 5 children so to a certain extent this skill is learned.
What emotion did you feel as you performed this task? At first I was anxious knowing that the situation could become volatile. I relaxed and felt pleased with how quickly I put this skill to use and with the girls' response.
Did you reach the desired outcome as a result of using these skills? The girls took turns making their comments and respectfully listened as the other spoke.
Sally can use the answers to communicate her ability to think and act quickly and appropriately. She could also communicate her ability to assess and diffuse a potentially volatile situation, communicate appropriate behavior through example, listen for clarity, create and present a viable plan, and obtain agreement between two disparate parties.
I would love to hear from you. You may join the conversation by commenting on this post on our Facebook fan page REAL Social Workers Online Magazine, joining the "Social" Social Workers Project or connecting with me on LinkedIn.
** Please note that I participate in the Amazon Associates program. Purchases made through links to Amazon in this publication may result in my being paid a small commission. You will not be charged more for your purchase. I only suggest books or items that I use and enjoy or that have been highly recommended to me by those I trust.