Sometimes…You Need a Coach
>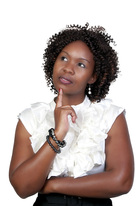 I found myself in that situation.  I had many ideas regarding the direction of my private practice.  I had a tote bag full of notebooks and slips of paper with my thoughts, diagrams, and notes.  My problem was putting it all together in a way that would save me time and money.  I was chasing my tail and becoming frustrated with my progress.
            A couple of months ago, I received a link from a friend announcing a webinar series for individuals, who wanted to increase their presence and make money online.  That webinar series was taught by LaShanda Henry founder of SistaSense.com.  Ms. Henry, who is also a web designer, teaches what she has learned from her experiences as a web entrepreneur.  She shares her trade secrets and personifies her mission to "help you to make money online."
            Two months ago, I was a licensed clinician with a lot of information and ideas.  I am now a focused entrepreneur with an identified target market.  I am producing information and services for social workers and social service professionals that will propel them to the next phase of their careers.  
            On the Programs page of my website, you will find a podcast dealing with personal career mission statements. You may also find it on YouTube. In the next few weeks, I will be rolling out some exciting new products, including a webinar series for social service professionals. The roll out date for the Happy 1/2 Hour Relaxation sessions is June 1st. 
Sometimes, you just need a coach.Sometimes, you need a coach.
            If you are a social worker or social service professional who is exploring a career change or wanting to move into a new career phase, please email me marcyline@mlbaileyconsultantsinc.com .