Futbol and Us
>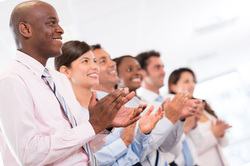 Our family has enjoyed watching the FIFA World Cup™ soccer matches.  The skill, agility, and endurance of the players is remarkable.  The players run, move and perform acrobatic feats for at least 90 minutes every game. During critical moments, like during penalty kicks, they demonstrate mental toughness and concentration.  The players appear driven by pride, love of country and love of the game to perform their very best.
The United States team exceeded expectations, without the benefit of their standout player, Jozy Altidore.  Many criticized the coach, including former standout, Landon Donovan, who was cut from the team.  The team came together, however, and new heroes emerged.  Team Captain Clint Dempsey, provided leadership on the field, played with a broken nose and black eye.  Mid-fielder Jermaine Jones also played with a broken nose and scored a key goal.  Tim Howard, the goalkeeper, provided a goalie clinic with his outstanding, never before seen, performance.  There are other names that we now recognize, Beasley, Beckerman, Bradley, Johnson, and Zusi.
Those of us in helping professions demonstrate skill, mental agility and endurance in our quest to empower those we serve.  We focus on the details and strive to execute our responsibilities to the best of our abilities.  We rarely have the benefit of the newest technology or adequate resources.  Nevertheless, we rely on each other and rise to the occasion daily.  No one will wear our names on the back of their jersey or run to the television to get a glimpse of our faces.  Selfies with us are forbidden in our professions because confidentiality rules.
We may never experience the popularity of the FIFA World Cup™ soccer players, but we are definitely someone's hero.
Tell me what you think.