Social Workers and Office Politics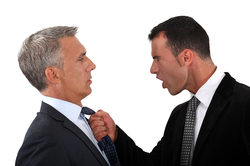 In his post 5 Ways to Deal with Office Politics, Matthew Crist outlines methods to avoid awkward work relationships and conflict. Office politics often sink or stall the careers of well meaning LCSWs and MSWs. One would hope that professional social workers would not use negative means to advance their careers at the expense of colleagues.
Another way to avoid being sucked into the vortex of office politics is to have a clearly defined personal/professional mission and mission statement. This is a major component of the M.L. Bailey Consultants, Inc. program for building a successful and satisfying career.
Your personal/professional mission aligns your actions, thoughts and behaviors with your vision for your life. Your mission statement provides clarity and structure that ensures that everything you do, say or think will move you closer to your desired outcome which is your vision.
For updates regarding our program for building a successful and satisfying career, like our facebook page https://www.facebook.com/mlbailey.consultants.inc
Take Good Care